Patent Power of chloride dioxide maintained at a low concentration level over a long duration
Chloride dioxide removes viruses and bacteria, inhibits mold growth, and eliminates unpleasant odors from toilets and kitchen garbage.
Contents
60g,150g
Ingredients: Chlorine dioxide solution, superabsorbent polymer, etc.
Applications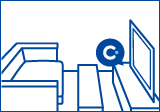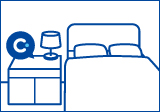 Others such as the entrance, children's room(s), washroom(s), toilet(s), bathroom(s), kitchen, and pet's area(s)
Usage instructions




Take care not to spill the liquid out the bottle and remove the cap.
Put all of the provided granules into the bottle.
Put the accompanying cap on the bottle and fix it by turning it until it clicks. Then, leave it still for 15 minutes. (The accompanying cap cannot be easily removed once it is fixed.)
Place it in a stable place. (Please keep safely out of reach of children and pets.)
Guidelines for use
Contents
Toilets, bathrooms, etc.
Living areas, etc.
60g
1 - 3 tatami mat space
(1.6 - 4.9 m2)
5. 6 - 8 tatami mat space
(9.7 - 13.2 m2)
Roughly 2 months
Roughly 1 month
150g
3 - 6 tatami mat space
(4.9 - 9.7 m2)
8 - 12 tatami mat space
(13.2 - 19.4 m2)
Roughly 2 months
Roughly 2 months
The ingredients may diffuse differently according to the use environment. Additionally, this product does not remove certain types of viruses, bacteria, and odors.
Precautions
Be careful to avoid accidental ingestion.
Keep out of reach of children.
Do not mix with or use at the same time as other products.
Do not inhale directly.
Increase ventilation if you detect any smell from this product. Check if it smells before using in your bedroom. (Please note that the product concentration will be stronger during the first few days of use.)
Avoid exposing the product to heat and direct sun during use and when storing.
Do not use this product for purposes other than those indicated here.
Do not use next to precious metals or precision machinery as this product can corrode metals.
Do not use next to colored fabrics, as this product can cause bleaching.
Do not use in a small closed environment, such as in a car, or in a refrigerator.
Do not use near animals and/or plants.
Wipe off immediately if spilled.
Emergency Measures
In case of accidental ingestion: Immediately rinse your mouth and drink water or milk. Do not induce vomiting. Consult a physician.
In case of eye contact: Immediately flush eye with a plenty of water and seek immediate medical attention.
In case of skin contact: Immediately wash exposed skin with soap and rinse with plenty of water. Consult a physician for any appearances of burns or rashes.
Discontinue use if any discomforting symptoms appear.